| Course | Dates | Total Cost (All inc.) | Click Online |
| --- | --- | --- | --- |
SMSTS Leeds (Yorkshire) – 5 Day Fast Track SMSTS Courses | All Inclusive
£645.00 Reduced to £450.00 limited time only
The Leeds SMSTS (Site Managers Safety Training Scheme) is held within close reach of Leeds Railway Station. There may be parking for students and the training centre is also well located for those travelling by public transport.
The SMSTS Leeds Site Safety Plus tutors cover the entire Yorkshire Region and are some of the best in the business.
Book now, click on your selected date and pay a £50 deposit to confirm your place.
For more SMSTS Leeds dates please click here
Call 020 7993 2534 for more information on SMSTS Leeds
(NB: Click on the date you wish to book and you will receive a booking confirmation)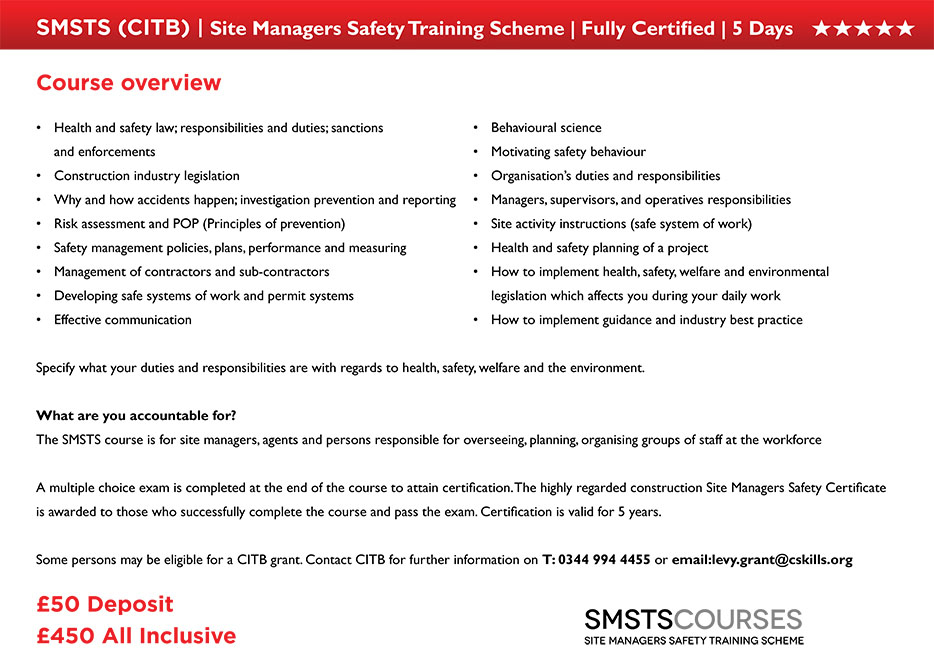 The SMSTS Leeds course is suitable for Aberford, Addingham, Adlingfleet, Agbrigg, Aike, Aire View, Airmyn, Aldbrough, Aldfield, Allerthorpe, Allerton, Almondbury, Altofts, Alverthorpe, Ampleforth, Anlaby, Anlaby Common, Anston, Appleton-le-Moors, Ardsley, Armthorpe, Arncliffe, Arnold, Arram, Arrathorne, Arthington, Askwith, Askrigg, Asselby, Aston, Athersley, Atwick, Aughton (East Riding of Yorkshire), Aughton (South Yorkshire), Austonley, Baildon, Bainbridge, Bainton, Balkholme, Barlby, Barmby Moor, Barmby on the Marsh, Barmston, Barnoldswick, Barkston Ash, Barnsley, Barugh, Barugh-Green, Barwick-in-Elmet, Batley, Beal, Beeford, Beggarington Hill, Belby, Bellasize, Bempton, Bennetland, Benningholme, Bentley, Berry Brow, Bessingby, Beswick, Beverley, Bewholme, Bielby, Billingley, Bilton, Bingley, Birdsedge, Birdwell, Birstall, Bishop Burton, Bishop Wilton, Blacktoft, Blubberhouses, Bolton, Bolton on Dearne, Boothferry, Boothtown, Boroughbridge, Boston Spa, Boynton, Bradford, Bradley, Braithwell, Bramham cum Oglethorpe, Bramhope, Bramley, Brampton, Brandesburton, Brantingham, Breighton, Bridge Hewick, Bridlington, Brierley, Brigham, Brighouse, Brind, Brinsworth, Broadgate, Brockholes, Broomfleet, Brotherton, Brough, Broughton, Buckden, Buckton, Bubwith, Bugthorpe, Burley, Burley-in-Wharfedale, Burnby, Burnsall, Bursea, Burshill, Burstwick, Burton Agnes, Burton Constable, Burton Fleming, Burton Leonard, Burton Pidsea, Burton Salmon, Buttercrambe, Calcutt, Calverley, Camblesforth, Camerton, Canklow, Carlecotes, Carlton (Hambleton), Carlton (Richmondshire), Carlton (Selby), Carlton Miniott, Carnaby, Cartworth, Castleford, Catcliffe, Catfoss, Catwick, Cawthorne, Cawood, Cherry Burton, Church End, Clayton (South Yorkshire), Clayton (West Yorkshire), Cleckheaton, Coniston, Conistone, Cononley, Copley, Cotness, Cottam, Cottingham, Countersett, Cowden, Cowlam, Cowling (Craven), Cowling (Hambleton), Coxwold, Cranswick, Crawshaw, Crofton, Croome, Crossflatts, Cross Hills, Cubeck, Cubley, South Yorkshire, Cudworth, Cundy Cross, Dalton (South Yorkshire), Dalton (West Yorkshire), Damems, Danby, Danby Wiske, Danthorpe, Darfield, Darton, Delph, Denholme, Denshaw, Denton, Dewsbury, Diggle, Dinnington, Dobcross, Dodworth, Doncaster, Drewton, Driffield, Drighlington, Dringhoe, Drub, Dunnington, Dunford Bridge, Dunswell, Earby, Easington (East Riding of Yorkshire), Easington (North Yorkshire), East Barnby, East Cottingwith, East Cowick, East Newton, Eastburn, Eastrington, East Rigton, Eccleshill, Edlington, Elland, Ellerker, Ellerton, Elloughton, Elmswell, Elsecar, Elstronwick, Embsay, Emley, Emmotland, Eppleworth, Eske, Eston, Etherdwick, Etton, Everingham, Everthorpe, Fangfoss, Farnley (North Yorkshire), Farnley (West Yorkshire), Farsley, Faxfleet, Featherstone, Felixkirk, Fewston, Filey, Fimber, Firbeck, Fitling, Flamborough, Fleatwood, Flinton, Flockton, Flockton Green, Foggathorpe, Fordon, Foston on the Wolds, Foxholes, Fox Royd, Fraisthorpe, Frickley, Fridaythorpe, Friezland, Full Sutton, Fylingdales, Ganstead, Gardham, Garforth, Gargrave, Garrowby, Garton, Garton on the Wolds, Gawber, Gembling, Giggleswick, Gilberdyke, Gildersome, Gildingwells, Gilling East, Gilling West, Gilroyd, Glasshouses, Glusburn, Goathland, Goldsborough {Harrogate}, Goldsborough (Scarborough), Goldthorpe, Goodmanham, Goole, Gowdall, Gowthorpe, Goxhill, Gransmoor, Grassington, Greasbrough, Great Cowden, Great Givendale, Great Hatfield, Great Houghton, Great Kelk, Green Hammerton, Greenhow Hill, Grewelthorpe, Gribthorpe, Grimethorpe, Grimston, Grindale, Guisborough, Guiseley, Haisthorpe, Halifax, Halsham, Hambleton, Harlthorpe, Harehills, Harehills Corner, Harpham, Harrogate, Harswell, Harthill, Hasholme, Hatfield, Hawes, Haworth, Haxby, Hayton, Hazlewood, Hebden, Hebden Bridge, Heckmondwike, Hedon, Hellaby, Hellifield, Helme, Helmsley, Hemingbrough, Hempholme, Hemsworth, Hensall, Heptonstall, Hepworth, Herringthorpe, Heslington, Hessle, Heworth, Hickleton, Highgate, High Catton, High Gardham, High Green (Kirklees), High Green (Sheffield), High Hoyland, High Hunsley, Higham, Hilston, Hive, Hollym, Holme, Holme on the Wolds, Holme-on-Spalding-Moor, Holmfirth, Holmpton, Honeywell, Hood Green, Hook, Hooton Pagnell, Horbury, Hornby, Hornsea, Horsforth, Hotham, Hotheroyd, Houghton, Hovingham, Howden, Howdendyke, Hoyland, Hoylandswaine, Hoyland Common, Hubberholme, Huddersfield, Huggate, Hull, Hull Bridge, Humbleton, Hunmanby, Hunslet, Hunton, Hutton Buscel, Hutton Cranswick, Idle, Ilkley, Ilton, Ingbirchworth, Ingleton, Ingrow, Jagger Green, Jaw Hill, Jump, Keighley, Kelleythorpe, Kendray, Kettlewell, Kexbrough, Kexby, Keyingham, Kilham, Kilnsea, Kilnsey, Kilnwick, Kilnwick Percy, Kilpin, Kilpin Pike, Kimberworth, Kimberworth Park, Kingstone, Kingston upon Hull, Kinsley, Kiplingcotes, Kirby Misperton, Kirby Underdale, Kirk Deighton, Kirk Ella, Kirkburn, Kirkbymoorside, Kirkheaton, Kirkleatham, Kirklington, Kiveton Park, Knaresborough, Knedlington, Knottingley, Lane, Langsett, Langtoft, Laughton Common, Laughton-en-le-Morthen, Laxton, Laytham, Lealholm, Leconfield, Leeds, Lelley, Letwell, Leven, Levisham, Leyburn, Lightcliffe, Linthorpe, Linthwaite, Lissett, Little Catwick, Little Driffield, Little Hatfield, Little Houghton, Little Kelk, Little London, Little Preston, Little Reedness, Little Weighton, Lockington, Lockton, Loftus, Londesborough, Londonderry, Long Riston, Long Preston, Lothersdale, Low Catton, Lowthorpe, Luddenden, Lund, Lundwood, Levitt Hagg, Malham, Maltby, Malton, Manvers, Mappleton, Mapplewell, Market Weighton, Marsden, Marske-by-the-Sea, Marton, Meaux, Melbourne, Meltham, Melton, Meltonby, Menston, Metham, Methley, Mexborough, Micklebring, Middlecliffe, Middlesbrough, Middlethorpe (East Riding of Yorkshire), Middlethorpe (North Yorkshire), Middleton {Craven}, Middleton {Harrogate}, Middleton {Ryedale}, Middleton {West Yorkshire}, Middleton on the Wolds, Millhouses, Millhouse Green, Millington, Mixenden, Molescroft, Monk Bretton, Morthen, Mossley, Muker, Mytholmroyd, Nafferton, Netherthong, Nettleton Hill, New Edlington, New Ellerby, New Farnley, New Lodge, New Mill, New Village, New York, Newland, Newport, Newsholme, Newton upon Derwent, Noblethorpe, Normanby, Normanton, Northallerton, North Cave, North Cliffe, North Dalton, North Duffield, North Ferriby, North Frodingham, North Howden, North Newbald, Northowram, Norton-on-Derwent, Nosterfield, Notton, Nunburnholme, Nunkeeling, Oakworth, Octon, Old Edlington, Old Ellerby, Old Lindley, Oldtown, Ormesby, Osgodby (Scarborough, North Yorkshire), Osgodby (Selby, North Yorkshire), Osmotherley, Ossett, Otley, Ottringham, Ousefleet, Ousethorpe, Out Newton, Ovenden, Overthorpe, Overton, Owsthorpe, Owstwick, Oxenhope, Oxspring, Painsthorpe, Pannal, Parkgate, Pateley Bridge, Patrington, Patrington Haven, Paull, Penistone, Pickering, Pilley, Platts Common, Pocklington, Pollington, Pontefract, Portington, Pool-in-Wharfedale, Preston, Preston-under-Scar, Primrose Valley, Pudsey, Queensbury, Rawcliffe, Rawcliffe Bridge, Ravenfield, Ravenscar, Rawdon, Rawmarsh, Raywell, Redcar, Redmire, Reedness, Reighton, Richmond, Rievaulx, Rimswell, Riplingham, Ripon, Risby, Rise, Robin Hood's Bay, Rolston, Roos, Rossington, Rotherham, Rothwell, Rotsea, Routh, Rowley, Roxby, Roydhouse, Royston, Rudston, Ruston, Ruston Parva, Ruswarp, Ryecroft, Ryehill, Saddleworth, Salt End, Saltaire, Saltburn-by-the-Sea, Saltmarshe, Sancton, Sandholme, Sandsend, Sawdon, Scalby (East Riding of Yorkshire), Scalby (North Yorkshire), Scarborough, Scholes (South Yorkshire), Scholes (Cleckheaton, West Yorkshire), Scholes (Holme Valley, West Yorkshire), Scholes (Leeds, West Yorkshire), Scorborough, Scorton, Seamer (Hambleton), Seamer (Scarborough), Seaton, Seaton Ross, Sedbergh, Selby, Settle, Sewerby, Shafton, Sheffield, Shelf, Shibden, Shipley, Shiptonthorpe, Sigglesthorne, Silkstone, Silkstone Common, Silpho, Silsden, Skeffling, Skelton, Skerne, Skidby, Skipsea, Skipsea Brough, Skipton, Skirlaugh, Skirlington, Skirpenbeck, Slaithwaite, Sledmere, Smithies, Snaith, Sneaton, South Bank, South Cave, South Cliffe, South Dalton, South Hiendley, South Newbald, South Ossett, Southburn, Southowram, Sowerby (North Yorkshire), Sowerby (West Yorkshire), Sowerby Bridge, Spaldington, Speeton, Spofforth, Sproatley, Spurn Head, Stainburn, Stainland, Staincross, Stainsacre, Staintondale, Stairfoot, Staithes, Stanbury, Stamford Bridge, Starbeck, Staxton, Steeton, Stocksbridge, Stockton-on-the-Forest, Storwood, Strensall, Suffield, Sunderlandwick, Sutton Bank, Sutton-in-Craven, Sutton-on-Hull, Sutton-on-the-Forest, Sutton-under-Whitestonecliffe, Sutton upon Derwent, Swallownest, Swanland, Swillington, Swine, Swinefleet, Swinton, Tankersley, Tansterne, Teesville, Templeborough, Terrington, Thearne, Thirsk, Thirtleby, Thornaby-on-Tees, Thorncliff, Thorne, Thorner, Thorngumbald, Thornholme, Thornton (West Yorkshire), Thornton (East Riding of Yorkshire), Thornton Dale, Thornton-in-Craven, Thornton in Lonsdale, Thornton-le-Clay, Thornton-le-Moor, Thornton-le-Street, Thornton Rust, Thornton Steward, Thornton Watlass, Thorpe, Thorpe le Street, Thorpe Hesley, Thorpe Salvin, Threshfield, Thrintoft, Thrybergh, Thunder Bridge, Thurcroft, Thurgoland, Thurlstone, Thurnscoe, Thwing, Tibthorpe, Tickhill, Tickton, Todmorden, Todwick, Tollingham, Towthorpe (East Riding of Yorkshire), Towthorpe (York), Treeton, Trumfleet, Tunstall (East Riding of Yorkshire), Tunstall (North Yorkshire), Tyersal. Uckerby, Ugthorpe, Ulleskelf, Ulley, Ulrome, Uncleby, Vale of Pickering, Wakefield, Wales, Walkington, Wansford, Waplington, Ward Green, Warter, Wassand, Wath (Harrogate), Wath (Ryedale), Wath-in-Nidderdale, Wath-upon-Dearne, Watton, Wauldby, Wawne, Waxholme, Weel, Weeton (East Riding of Yorkshire), Weeton (North Yorkshire), Welhambridge, Welton, Welwick, Wentworth, West Ayton, West Barnby, West Cowick, West Ella, West Hauxwell, West Melton, West Newton, Wetherby, Wetwang, Wheldrake, Whiston, Whitby, Whitgift, Wickersley, Wigglesworth, Wilberfoss, Wilfholme, Willerby, Willitoft, Wilsden, Wilsill, Wilsthorpe, Wilthorpe, Windel, Winestead, Winterburn, Withernsea, Withernwick, Wold Newton, Woodale, Woodhall, Woodmansey, Woolley Colliery, Wombwell, Woodsetts, Wortley, Worsbrough, Worton, Wrelton, Wressle, Wykeham (Ryedale), Wykeham (Scarborough), Wyton, Yafforth, Yapham, Yarm, Yeadon, Yearsley, Yedingham, Yockenthwaite, Yokefleet, York, Youlthorpe, Youlton